Counseling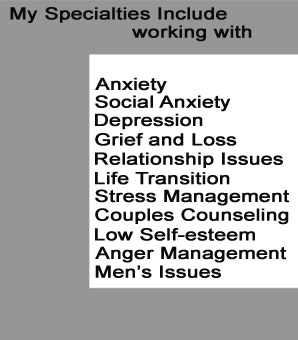 If you've come to this page you may be seeking support or help with resolving emotional wounds or unfinished business in your life, improving or working through a challenge in your relationship, moving past a troubling issue, or removing obstacles to living the life that you want.
Are you ready to learn practical skills to feel and relate to difficult emotions without being overwhelmed or derailed in the process?

Are you ready to feel and live more fully and creatively?

To learn ways to communicate better in your relationships and relate more authentically to your loved ones and friends?

To improve the most important relationship you have…the one with yourself?
If you've answered 'yes' to any of these questions, or you have an interest in personal evolution and growth individually or in relationship, click on one of the links below to find out more about my individual and couples counseling services.
David S. Robbins, MA, LPC
3393 Iris Ave., Suite 206
Boulder, CO 80301
303.225.2700
email me